August 2018 | Education Law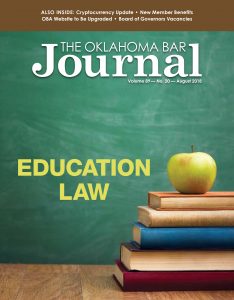 Feature Articles
Navigating FERPA to Access Student Records
As attorneys, we know the importance of documentation. When it comes to matters involving children, it is common for educational records to be utilized. It is important to understand the application of Oklahoma law1 as well as federal law, specifically FERPA, when it comes to which records are deemed as educational records versus directory information. Some records are available to any patron while others require parental consent,2 and some are only accessible via court order.
Disability Accommodation in Higher Education
Students with disabilities who attend institutions of higher education have been protected against discrimination on the basis of their disability since the passage of the Rehabilitation Act of 1973.1 Since then, other laws such as the Americans with Disabilities Act of 1990,2 and a set of amendments that strengthened its protections in 2008,3 have radically changed the landscape of inclusion and access at colleges and universities across the country. Because of the complexities and obligations of these laws, disability accommodation has become a full-fledged profession in higher education, with most institutions having designated coordinators for disability services or similar professional positions on their campus as a central resource for students who request accommodations or have difficulty with access barriers.4
Students Protest in the Era of 'Parkland' and Black Lives Matter
On Wednesday, March 14, 2018, thousands of high school students across the nation walked out of their classes in remembrance of the 17 individuals murdered at Marjory Stoneman Douglass High School in Parkland, Florida, and to protest gun violence in the United States. The protests came in many forms. Some groups, with support from district staff, congregated on athletic fields and solemnly released balloons, while others used their voices to make the point, shouting "We want change!" or "Enough is enough!" For the most part, the protests were peaceful, although some included shouting matches between those with opposing viewpoints.1
The Legal Issues Associated With a Teacher Work Stoppage
In March 2018, Oklahoma was made aware of the possibility of a teacher work stoppage. Oklahoma's public school teachers, fed up with politics and business as usual, commenced discussions via social media of the possibility of going on strike. One social media group garnered more than 75,000 members in a short period of time.
Suspension and the Special Education Student
Two important policy issues come into play when students with special needs engage in behavior that gives rise to suspension of the student. First, the school district is obligated to maintain order in the classroom to create a proper learning environment. However, when dealing with special needs students, the district must determine if the conduct giving rise to discipline is a manifestation of the student's disability. If the offending behavior is a manifestation of the student's disability, the district is limited in how long it may suspend the student and must make changes to the student's education plan to improve his or her education experience. This article will examine the procedures and legal standards used to define the rights of special needs students juxtaposed with the districts authority and obligation to maintain discipline in the classroom.
Legal Representation of a Public School District in Oklahoma
On occasion, the administration of a school district or members of a school board will require legal assistance. There are typically three different types of attorneys working with school districts: 1) state association legal counsel, 2) retained legal counsel and 3) in-house legal counsel. When an issue arises, the various members of the board of education, school administrators or school employees may through a series of conversations and communications involve the state association's legal staff, the school district's in-house legal counsel and an outside law firm. Adding all of these lawyers to the discussion of an issue creates an opportunity for conflicting legal information and inconsistent legal advice for school districts, but may also provide the school district with more than one path to address the issue. When this happens, legal considerations come into play about the participation of the attorneys involved.
Plus Articles
Update to Cryptocurrency Article
In the May 2018 issue of the Oklahoma Bar Journal an article by Kaimee K. Tankersley, Ashley Davis and Alexander Ah Loy titled "Legal and Regulatory Developments Arising From The Growth of Cryptocurrency" discussed those developments on the federal level and among the states, but concluded its discussion of state regulation as of November 2017. The purpose of this section note is to update that part of the article.
Six New OBA Member Benefits Focus on Practice Management
Changes in the legal profession continue to impact us all. We have gone from the days where there was a debate on whether a lawyer should even have a computer on his or her desk to today where the computer network going offline means that the law firm is largely unable to function. 
New www.okbar.org: More Than Just a Facelift
Great news! Big changesare coming to the bar association website. Everyone loves change, right?
An Illness No One Talks About
I just returned to work after being off for a little more than six weeks. No, I had not been on an extended vacation backpacking across Europe. I had spent time in a mental hospital followed by six weeks of outpatient day treatment. I have bipolar disorder and was suffering through a severe bout of depression.