Verdict: Fictional Mock Trial Case Develops Real-World Skills in Participants
By Todd A. Murray
Coached by Judge Daman Cantrell and attorneys Ken Underwood, Maegan Murdock and Kaylind Baker, Owasso High School Team Zip, Zap, Zok celebrates its championship win.
For over 40 years,Oklahoma high school students have gained practice in real-life skills by assuming the roles of attorneys and witnesses in a simulated courtroom experience that is evaluated by practicing attorneys and judges. The participants use a fictional case drafted by the OBA Mock Trial Committee.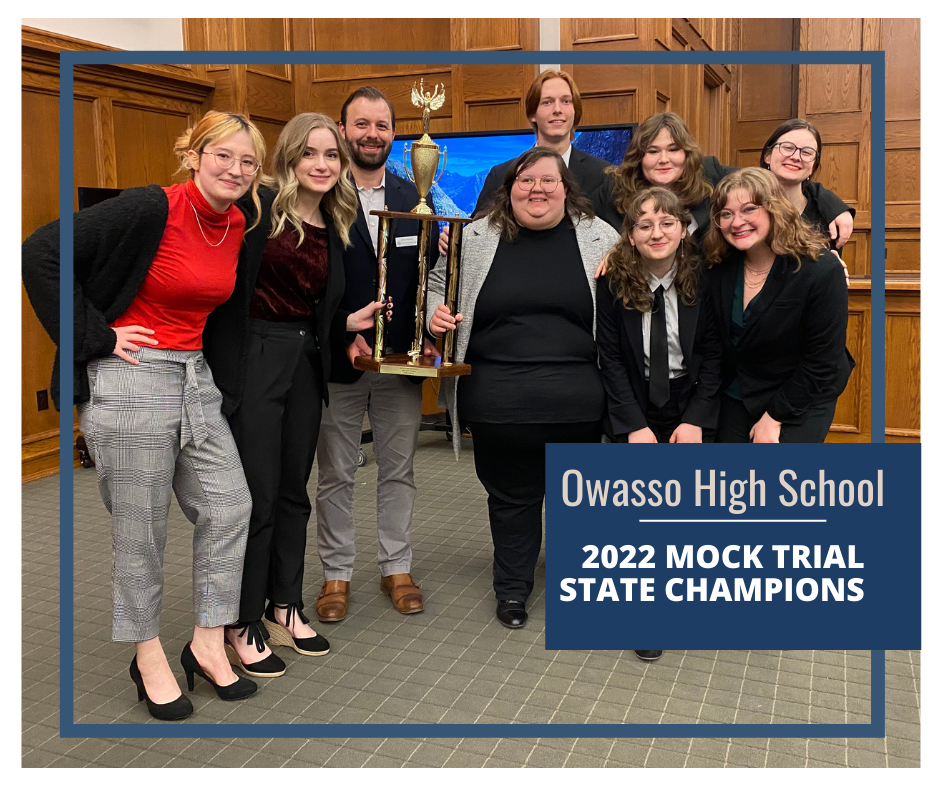 On March 1, the top two teams met in person at the OU College of Law Bell Courtroom for the final round of competition, pitting Owasso High School Team Zip, Zap, Zok versus Jenks High School Team The Truth. The last time these two schools met in the final round was in 2017, with Jenks beating Owasso. This year, however, Owasso defeated Jenks to claim the state title and the privilege of virtually representing Oklahoma at the National High School Mock Trial Tournament in May in Kalamazoo, Michigan. Owasso High School has won four of the last five state titles and has competed in the last eight state final rounds, a record unmatched by any other school.
The mock trial program is a unique extracurricular activity that develops reasoning, listening and speaking skills, among others. Students are given fictional sworn statements with often contradictory testimony from both fact and expert witnesses, not unlike real legal situations. Jury instructions and trial exhibits are included in the case materials. The students must analyze the materials from all perspectives and filter through information that was not important or relevant to reach the facts needed to present each side of the controversy.
Students also practice acting skills by creating characters for the witnesses. Participants learn how to think on their feet, work as a team and gain insight into the legal world. Courtroom etiquette, not to mention basic advocacy skills, is learned through participation in the program. Students also serve as bailiffs and timekeepers. The ability to critically think through an issue from multiple perspectives is a life-long skill that will serve the competitors throughout their futures. Many former mock trial participants have attended law school to become not only attorneys but judges too.
The OBA High School Mock Trial Program, now in its 42nd year, involved a criminal case this year that stemmed from a peaceful protest gone awry. The murder victim was one of the organizers of the intended peaceful protest, who died during a clash between groups that were exercising their constitutional rights as citizens of Oklahoma and the United States. This case provided a unique opportunity for participants to consider how an individual's conduct can affect other people, directly and indirectly.
The case was released Oct. 31. Scrimmages were permitted prior to January when the qualifying rounds were held. The top 24 teams then competed in the quarterfinals, with the top eight teams advancing to the semifinals during February. Throughout the competitive season, students honed their problem-solving skills, impeaching witnesses with their respective statements and making and arguing objections. Students also gave opening and closing statements and did both direct and cross-examinations on three witnesses for each side. Awards for the best attorney and best witness were offered.
The final round was presented to a distinguished panel of judges. Presiding judge for the final round was Retired Judge Edward Cunningham, who has been involved with the competition since 1982. Scoring panelists were Justice Noma Gurich, Judge David Lewis, Judge Janice Loyd, Judge Charles Goodwin and Judge Shon T. Erwin. Each of the scoring panelists is a current sitting judge, and the panel, collectively, possesses years of experience and involvement with the mock trial program, including some as student participants in the program.
Owasso Team Zip, Zap, Zok was coached by Judge Daman Cantrell, attorneys Ken Underwood, Maegan Murdock and Kaylind Baker and teacher Kelly Murphy. Team members were Marley Hutchins (recipient of the Best Attorney award), Seth Wyrick, Aidan Green, Kayla Gross, Katelynn Gurley, Terressa Evington (recipient of the Best Witness award), Morganne Grobe, Ava Brigman, Lauren Hughes, Katelyn Wiehe and Alyson Bushey.
Jenks Team The Truth was coached by attorneys Morgan Medders, Stacey Accord, Jenny Day and Michael Horn and teachers Michael Horn, Danielle Frost and Dana Mackay. Team members were Tara Valadkhani, Kayla Cao, Jordan Wallace (recipient of the Best Attorney award), Audrey McGee, Aaron Siebert, Elaine Gao, Bryce Olsen (recipient of the Best Witness award), Jacob Batscha, Grace Phelps, Mikiah Perdue, Jolie Abdo, Amy Stephenson, Mitchell Horn and Lauren Clarey.
The final rankings for the remaining teams that competed in the semifinal round are:
3rd Place – Moore High School
4th Place – Cornerstone Christian Academy, Oklahoma City
5th Place – McAlester High School Team Black
6th Place – Jenks High School Team Final Breath
7th Place – Bishop Kelley High School, Tulsa
8th Place – McAlester High School Team Gold
THANK YOU TO OUR VOLUNTEERS
This program would not exist without the hard work of hundreds of volunteers. Each year, over 400 judges and attorneys donate time to work with mock trial teams directly, score and judge the teams throughout the competition and, as members of the Mock Trial Committee, plan, prepare, write, conduct and oversee the competition. Attorney Kevin Cunningham served as chair of the Case Writing Committee.
The Oklahoma Bar Foundation is the principal financial supporter of this competition, and without its generosity, the generational impact this program has developed since inception simply would not exist. Thank you on behalf of the committee and all involved for supporting the 2022 Oklahoma High School Mock Trial Program. If you are interested in being a part of the committee or volunteering for the High School Mock Trial Program next year, email mocktrial@okbar.org.
ABOUT THE AUTHOR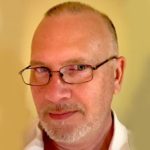 Todd A. Murray practices in Oklahoma City and serves as chairperson for the Oklahoma High School Mock Trial Committee.
MOCK TRIAL COMMITTEE  
Todd A. Murray, Chairperson
Andrea Medley, Immediate Past Chairperson
Kevin Cunningham, Case Development Chairperson
Shea Bracken
Amber Brock
Jennifer Bruner
Andrew Casey
Christine Cave
Brittany Hayes
Michael Nesser
Nathan Richter
Gessica Sewell McLanahan
Orion Strand
Carolyn Thompson
Austin Vance
Weston Watts
ATTORNEY COACHES
Stacy Accord
Luke Adams
Jesse Anderson
John Andrews
Clifford Baker
Kaylind Baker
Bruce Bushong
Daman Cantrell
Jenny Day
Tom Duncombe
Brian Henderson
A.J. Hofland
Michael Horn
Quaid Johns
D. Kirkley
Jennifer Lawmaster Stall
Mary Leavell
Tim Maxcey
Joy Maxwell
Drew McNeil
Morgan Medders
Tim Mills
Misty Montgomery
Maegan Murdock
Chris Ross
Matt Sheets
Cameron Spradling
Ken Underwood
TRIAL SITE COORDINATORS
Shea Bracken
Brittany Hayes
Carrie Hulett***
Patrick Layden**
April McClure
Andrea Medley
Todd Murray
Michael Nesser***
Nathan Richter
Maxcey Riley
Gessica Sewel McLanahan**
Orion Strand
Julie Strong**
Leah Terrill-Nessmith
Carolyn Thompson***
Kathryn Walker
PRESIDING AND SCORING PANELIST VOLUNTEERS
Glenn Adams*
Curt Allen*
Luke Anthony
Nikki Baker
Robin Baker
Jerry Bass*
Mindy Beare
Howard Berkson*
Kelly Bishop
Stephanie Bishop
Eli Bland
James Bland
Angela Bonilla
Madison Botizan*
Elizabeth Brown
Jennifer Bruner-Soltani*
Aaron Bundy
Toni Capre
David Cheek
Heather Coyle
Kymberly Cravatt
Dan Crawford**
Edward Cunningham**
DJ DeLeon*
Michael Denton*
Laura Deskin
Deirdre Dexter**
Kara Didier
Susan Dobbins*
Brenda Doroteo
Allyson Dow
Catina Drywater*
Blake Dutcher
Eric Eissensat
Shon Erwin*
Laura Farris
Jeff Fisher*
Craig Fitzgerald*
Eddie Foreaker*
Mitchell Garrett
Stephen Gary
Charles Gass
Charles Geister*
Brenda Golden
Aaron Goodman*
Elaine Green
Dana Hada
Howard Haralson*
Debra Heckler
Shane Henry*
Michon Hughes
Trevor Hughes
Caroline Hunt
Kristine Huntsman
Jennifer Johnson
J.P. Jordan
Kelly Kavalier
Chad Kelliher
Chris Kelly
Rick Knighton
Kent Larason*
Marvin Laws
Lacie Lawson
Danielle Layden
K. Wayne Lee
Paige Lee*
Renee Little*
Kim London*
Nicole Longwell*
Paige Masters
Jack McCurdy
Sean McKelvey*
Law McMeans
Mike Miller
Cody Minyard
James Moore
David Mosburg
Beth Muckala
Ann Murray
Jequita Napoli*
Drew Nichols
Jeff Niese
Earl Ogeltree
Jack Osborn
Jenna Owens*
Christine Pappas
Matt Petterson
Krystina Phillips
Richard Phillips
Jeremy Pittman
Heather Poole
Anthony Purinton
Austin Rabon
Pandee Ramirez
Robert Redemann**
Deborah Reheard
Greg Reilly
Thomas Robertson*
Robin Rochelle
Robin Rollins*
Timila Rother
Nils Rouniler
Andrea Rust
Kathryn Savage
Mark Schwebke**
Tony Scott
Angela Smith*
Nicole Snapp-Holloway
Jeanne Snider
Angie Stout
Orion Strand
Khristan Strubhar
Chuck Sullivan*
Joe Tate*
Kim Taylor*
Paiten Taylor-Qualls*
Cassidy Thompson
Nicholas Thurman
Tom Toland
Michael Tupper
Georgenia Van Tuyl**
Austin Walters
Sharon Weaver*
Matt Wheatley*
*Denotes additional
times volunteered
Oklahoma Bar Journal – OBJ 93 Vol 4 (April 2022)