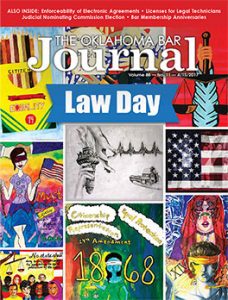 Feature Articles
Celebrating Law Day Throughout the State
The 14th Amendment was established to protect civil rights of all Americans. As part of the Reconstruction Amendments, it is flanked by the 13th Amendment – abolishing slavery – and the 15th Amendment – prohibiting denial of citizens' right to vote. The 14th Amendment, however, has greatly expanded the protection of civil rights and has been cited in more litigation than any other amendment. Supreme Court Justice William O. Douglas observed of the amendment, "No patent medicine was ever put to wider and more varied use than the 14th Amendment."
Plus Articles
That's a Wrap! Examining the Enforceability of Electronic Agreements
The internet has spawned a new breed of contract – one whose terms are made available on the offeror's website and whose acceptance is presumed from some act of the offeree, be it an online purchase, a download or mere continued use of the site. These are "wrap" agreements, and their enforceability1 is the subject of a quickly evolving body of law. Even with the proliferation of the internet and its transformation of everyday commercial and consumer transactions, the essential elements of contract formation remain unchanged. Thus, formation of a wrap agreement requires, inter alia, a manifestation of mutual assent to its material terms. Wrap agreements present novel issues in this regard because the internet is not conducive to traditional methods of assent such as written signatures, handshakes and oral expressions of agreement.
The L in Triple LTs: The Limited Nature of Licenses for Legal Technicians
LLLTs, what are they? Where are they? How many of them are there? An LLLT is a limited licensed legal technician; they are not an attorney, but are licensed to practice law in a limited capacity. Washington was the first state to adopt the LLLT model and remains the only state to grant any limited licenses to legal technicians. In early 2015, Washington granted licenses to seven LLLTs (grandfathered in, having at least 10 years of practice). In the fall of 2015, 15 more applicants sat for the LLLT exam in Washington with 10 applicants passing the exam.1 There are likely no more than 22 LLLTs (or the equivalent) in the country, all of them in the state of Washington.2
Mock Trial Builds Skills for All Career Fields, Not Just Law
"Mock trial is an exceptional program that teaches students public speaking and creative problem solving," said Cymber St. Gemme, former Owasso High School participant who helped start a mock trial program at TU. "It challenges students to prepare effectively as a team with the information given but also to think on their feet. Additionally, students gain networking opportunities and learn how to conduct themselves in a professional setting," she continued.
Bar Members Celebrate Membership Anniversaries
The Oklahoma Bar Association applauds these members who, in 2017, reached significant milestone anniversaries.