2023 Spotlight Award Winners Honored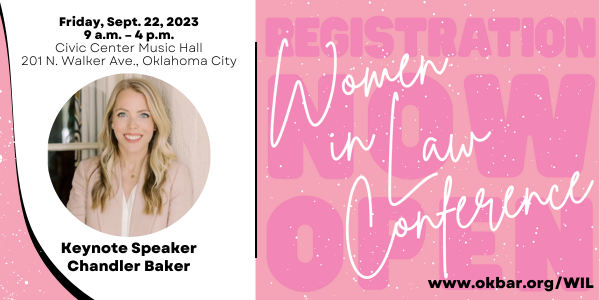 The Oklahoma Bar Association Women in Law Section is planning its annual conference to celebrate and support women in the legal profession. This one-day event will kick off at 9 a.m. on Friday, Sept. 22, at the Civic Center Music Hall, 201 N. Walker, Oklahoma City.
The event will also feature the Mona Salyer Lambird Spotlight Awards Luncheon, where leading women lawyers and judges from across the state are annually recognized. This is the 27th year of award presentations. Attendees may register for the luncheon only. Space is limited; visit www.okbar.org/wil for more information.
Since 1996, Spotlight Awards have been given to five women who have distinguished themselves in the legal profession and have lit the way for other women. In 1998, the award was named to honor the late Mona Salyer Lambird, the first woman OBA president and one of the award's first recipients. The award is sponsored by the OBA Women in Law Section. Each year, all previous winners nominate and select the current year's recipients. A plaque bearing the names of all recipients hangs in the Oklahoma Bar Center in Oklahoma City.
This year's honorees are LeAnne Burnett, Oklahoma City; Susan Carns Curtiss, Oklahoma City; Tricia Louise Everest, Oklahoma City; Betsy Jackson, Tulsa; and Sharolyn Whiting-Ralston, Tulsa.
LeAnne Burnett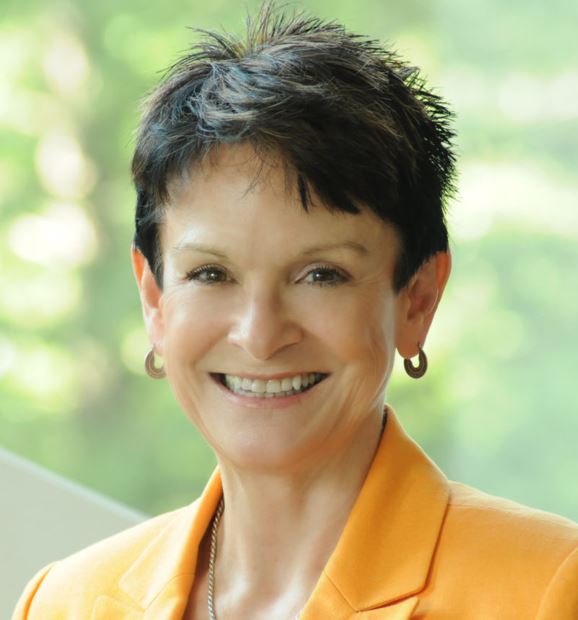 LeAnne Burnett is a director in Crowe & Dunlevy's Oklahoma City office. Her practice focuses on environmental and regulatory aspects of utility grade renewable energy projects and on environmental law, regulation and litigation, including guiding clients through issues related to chemicals alleged to affect human health or the environment, such as per- and polyfluoroalkyl substances, commonly referred to as PFAS.
Ms. Burnett is a founding member of the OBA Environmental Law Section and served as chair of that section. She was an editor and co-author of the Oklahoma Environmental Law Handbook published by the OBA.
She spent nearly a decade as Crowe's associate development director, mentoring yearly classes of lawyers through the early years of their careers. She has also been a member of the Robert J. Turner American Inn of Court since 1998. She serves on the Oklahoma County Bar Association's Fee Grievance and Ethics Committee. She was recognized by The Journal Record as one of its 50 Making a Difference and received their Leadership in Law Award.
She is also very involved in the legal volunteer community. Since 2000, she has been a member of the Executive Board, the Board of Directors and a volunteer lawyer and guardian ad litem for Oklahoma Lawyers for Children. She was a three-term member of the Board of Trustees of Pivot, a turning place for youth (formerly Youth Services for Oklahoma County), and upon appointment, she has served as a federal guardian ad litem in child sex trafficking cases in the Western District of Oklahoma.
She was admitted to practice law in Oklahoma in 1989 after she received her J.D. from the OU College of Law with honors. She is also admitted to practice in Arkansas and Kansas. She received her Bachelor of Arts from Southern Methodist University in 1971.
Susan Carns Curtiss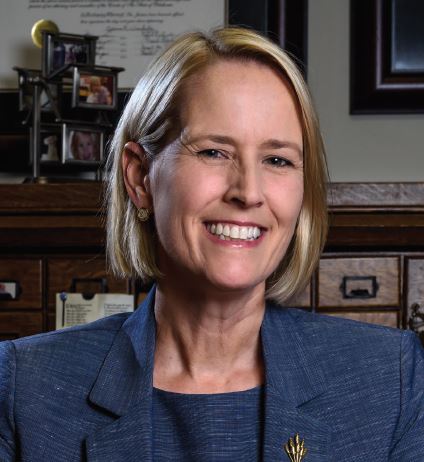 Susan Carns Curtiss' legal career story began in 2002 when she served as a juror on the Badillo case. It was this jury experience that led her to law school in the fall of 2003.
She began her litigation career with Farmers Insurance Co., and then several years later, she accepted an invitation to work for a large plaintiffs' firm. By 2014, she opened her own law office, Carns Curtiss Law PLLC, where her work is devoted to the representation of plaintiffs – primarily in motor vehicle-related personal injury and wrongful death claims.
As Ms. Carns Curtiss developed her practice, she searched online for a place where women in the profession could gather. Unable to find one, she launched GIRL ATTORNEY LLC, which facilitates a national community for women attorneys and helps to level the "playing field" for women in the practice of law. Since its inception in 2016, this community has organically grown from serving 46 women attorneys located in Oklahoma City to over 36,000 women across the United States. In 2018, GIRL ATTORNEY LLC was awarded the OBA Diversity Committee's Ada Lois Sipuel Fisher Diversity Award.
In 2022, for her work through GIRL ATTORNEY LLC, Ms. Carns Curtiss was awarded the Donald Deason Community Service Award from the Ruth Bader Ginsburg American Inn of Court, as well as the Community and Public Service Award from the OCU School of Law Alumni Association.
She loves to run, read and knit. She and her husband enjoy traveling, and she is the proud mother of Anna, Lily and James. She enjoys volunteering and speaking locally and nationally for professional and civic groups, schools and churches. In 2013, she gave a TEDx talk titled "The Imperfect Path to Peace."
Tricia Everest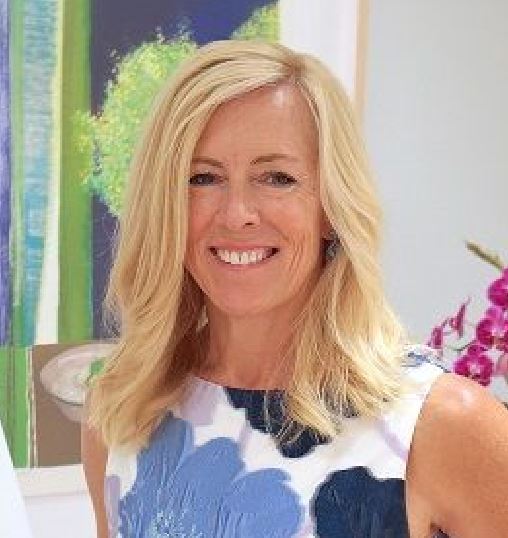 Tricia Everest, a native of Oklahoma City and fourth-generation Oklahoman, attended Casady High School before receiving her Bachelor of Science from Vanderbilt University. Ms. Everest started her legal career as a legal assistant at Crowe & Dunlevy, splitting some of her time working with Oklahoma Lawyers for Children. She went on to earn her J.D. from the OU College of Law. After graduation, she served the state as an assistant attorney general. In 2010, she left the Attorney General's Office to help build public/private partnerships to help people find hope and purpose by creating pathways for stronger lives.
Ms. Everest was the founding chair of ReMerge, which diverts mothers from prison and empowers the women to build healthy foundations for themselves and their children. She plays an integral role as the founding chair of Palomar, which removes barriers for abuse victims to access the services they need. Her other philanthropic endeavors include chair of Allied Arts, past chair of the YMCA – the organization's first female chair in its 128-year history – and service on numerous nonprofit boards and commissions.
Amongst a number of recognitions, Ms. Everest received the Lee Allan Smith Oklahoma Legacy Award in 2013. The Oklahoma County Bar Association presented her with the President's Professional Award in 2017. In 2019, she was inducted into the OCU Meinders School of Business Oklahoma Commerce and Industry Hall of Honor. She received the state's highest honor in 2019 with her induction into the Oklahoma Hall of Fame. She received the 2020 Volunteer of the Year from the Department of Justice for her work with crime victims. In 2023, she was inducted into the Order of the Owl, the OU College of Law's highest honor. She also holds an honorary doctorate in humanities from OCU. She currently is the cabinet secretary of Public Safety for the state of Oklahoma.
Betsy Grabel Jackson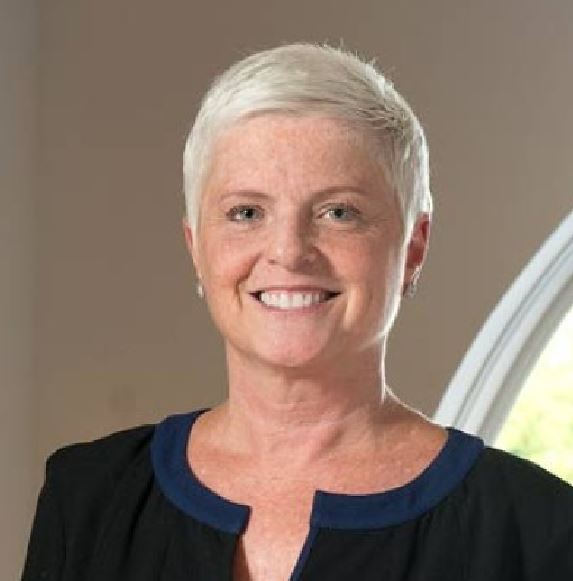 Betsy Grabel Jackson is a shareholder at Hall Estill, where she practices in the corporate/commercial area, specifically dealing in securities, business transactions, commercial finance, mergers and acquisitions, and real estate. She earned her J.D. from the TU College of Law and her undergraduate degree – a Bachelor of Business Administration in finance – from Southern Methodist University. Ms. Jackson began her legal career as a law clerk for the Judge Paul Mannes, chief bankruptcy judge for the District of Maryland, and then with Weil, Gotshal & Manges in Washington, D.C. Upon returning to her hometown of Tulsa in 1996, she joined Hall Estill. She serves on the firm's Board of Directors and Executive Committee.
Ms. Jackson is an active member of the Tulsa community and currently serves on the Board of Directors for the Tulsa Area United Way and Tulsa CARES. In addition, she is the vice chair of the Tulsa Women's Commission. Further, she was an attorney recipient in 2018 of the OBA Diversity Committee's Ada Lois Sipuel Fisher Diversity Award for her participation in a variety of corporate and community events that promote mutual respect, acceptance, cooperation or tolerance and contribution to diversity awareness in the community and workplace. In 2019, she was named one of The Journal Record's 50 Making a Difference, which recognizes Oklahoma's leading women who epitomize leadership in both their professional endeavors and in the communities where they live.
Ms. Jackson is married to Judge Gerald L. Jackson, magistrate judge for the U.S. District Court for the Eastern District of Oklahoma. In 2022, they were jointly honored at the Tulsa CARES Red Ribbon Gala with the Patricia Chernicky Luminary Award.
Sharolyn Whiting-Ralston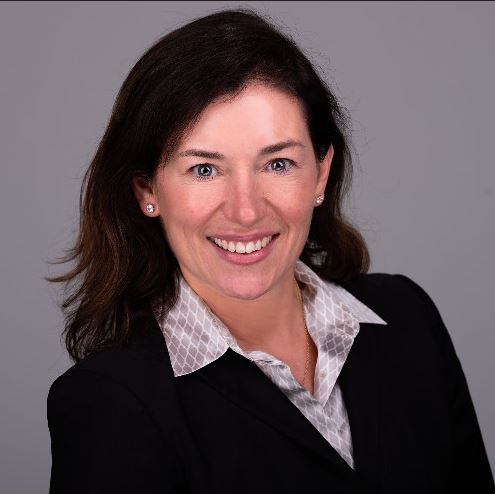 Sharolyn Whiting-Ralston is an attorney with McAfee & Taft in Tulsa, where she practices business and class action litigation. She recently rejoined the firm after working more than nine years in-house at Samson Resources Co., serving most recently as general counsel, vice president of human resources and corporate secretary. As a member of the executive management team at Samson, she managed all aspects of the legal and human resources functions of the organization. Prior to June 2014, she was a shareholder at McAfee & Taft, practicing litigation and labor and employment law.  
Ms. Whiting-Ralston graduated with highest honors from the TU College of Law in 2006 and earned her Bachelor of Science in business from OSU. She currently serves as chair of the Board of Directors for the Tulsa Day Center, where she has served on the board for nine years. She volunteered for Tulsa Lawyers for Children from 2006 to 2014.
---
Attorney and New York Times bestselling author Chandler Baker will serve as the keynote speaker for this year's event. Attendees will hear from numerous presenters and panelists throughout the day. Topics will include courtroom civility and its impact on mental health, law firm branding and alternative careers in the law for those who have earned legal degrees. Panel discussions will delve into issues such as judicial ethics and seeking public office. A full agenda along with registration information is posted online at www.okbar.org/wil.
"The OBA Women in Law Section seeks to educate and engage lawyers and the public about the issues affecting women in the legal profession," said lawyer Emily Gregory of Oklahoma City, who chairs the section. "Our annual conference provides attendees with exciting opportunities for networking and career development while also offering compelling continuing legal education to Oklahoma lawyers."
Licensed attorneys who register for and attend the day-long event will earn a total of six mandatory continuing legal education credit hours, two of which may be applied toward ethics requirements.
The 18,000-member Oklahoma Bar Association, headquartered in Oklahoma City, was created by the Oklahoma Supreme Court to advance the administration of justice and to foster and maintain learning, integrity, competence, public service and high standards of conduct among Oklahoma's legal community.