Tulsa Attorney Takes Oath as OBA President
Tulsa attorney James R. "Jim" Hicks was sworn in as the Oklahoma Bar Association president during a virtual ceremony on Jan. 14. He will lead the OBA's 17-member Board of Governors that meets monthly and governs the 18,000-member association. Supreme Court Chief Justice Richard Darby administered the oath from his office at the Oklahoma Judicial Center in Oklahoma City with Hicks at his Tulsa law firm and others taking their oaths from locations across the state.
"I am deeply honored and humbled to lead this organization and will do my best to bring empathy, compassion and loyalty to every member," Hicks said during his inaugural address.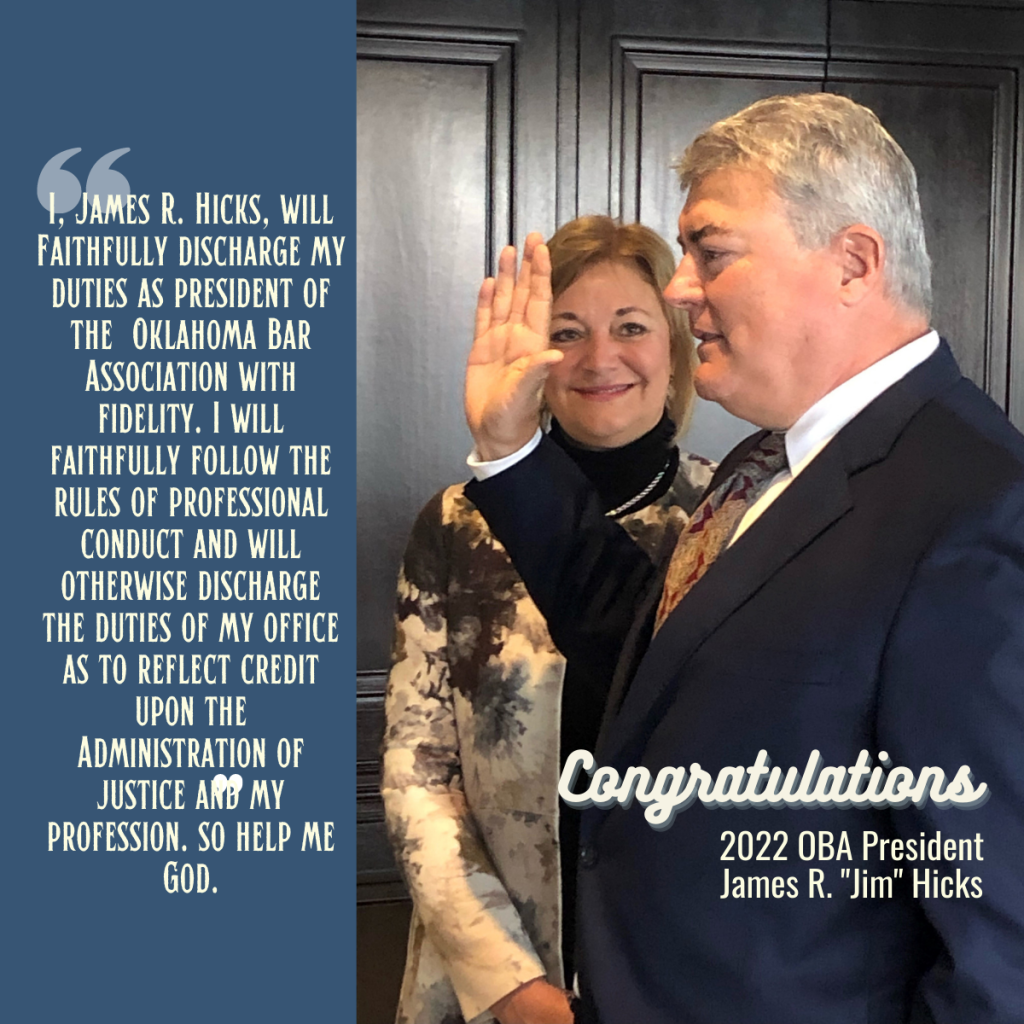 Hicks practices in Tulsa with the law firm of Barrow & Grimm PC. His focus is on the litigation and transactional needs of individuals and businesses. He also represents clients in probate, estate planning and family law matters. Hicks attended OU and received his bachelor's degree in finance before attending the TU College of Law. Admitted to practice in 1985, he served as a member of the OBA Board of Governors from 2015 to 2019. He also served as president of the Tulsa County Bar Association from 2013 to 2014 and the Tulsa County Bar Foundation from 2017 to 2019.
He has been recognized as an outstanding young lawyer by the TCBA and received the TCBA President's Award. In 1995, he was recognized as the OBA's outstanding young lawyer. He has also served as senior warden of St. John's Episcopal Church in Tulsa since 2013 and continues to volunteer his time to several nonprofit organizations.
Others sworn in for one-year terms were Brian T. Hermanson of Ponca City as president-elect, Miles T. Pringle of Oklahoma City as vice president, Michael C. Mordy of Ardmore as immediate past president and Dylan D. Erwin of Oklahoma City as Young Lawyers Division chairperson.
Taking oaths for three-year terms to represent their respective Supreme Court judicial districts were Angela Ailles Bahm of Oklahoma City, S. Shea Bracken of Edmond, Dustin E. Conner of Enid and Allyson E. Dow of Norman.
OBA leadership roles are voluntary positions in which lawyers serve while continuing to practice law.
The Oklahoma Bar Association, headquartered in Oklahoma City, was created by the Oklahoma Supreme Court to advance the administration of justice and to foster and maintain learning, integrity, competence, public service and high standards of conduct among Oklahoma's legal community.