Solo & Small Firm Postponed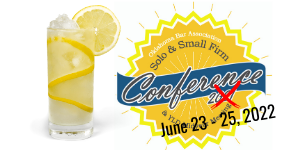 The bad news is the popular Solo & Small Firm Conference is canceled for the summer of 2021.
The good news is the conference returns in 2022, and a Summer Series is planned for this year.
The conference committee met repeatedly to work through factors related to the venue, the pandemic, contracts and the calendar. Because of the obstacles, a decision was approved by the committee and the OBA Board of Governors to cancel the 2021 event, and work toward a return in June 2022.
"The Committee and the staff worked hard to find a venue that would allow the conference to be a fun, informative event with the usual great social events. Unfortunately, the Covid rules in place in all available venues would not allow us to put on the conference in a meaningful way. I'm very disappointed, but we promise to put on the best conference ever in 2022," said OBA President Mike Mordy.
The OBA CLE Department will present a Summer Series featuring online courses with relevant content to solo and small firm practitioners. An in-person social and networking event is being planned in Oklahoma City.