OBA Crowns 2021 Oklahoma High School Mock Trial Champions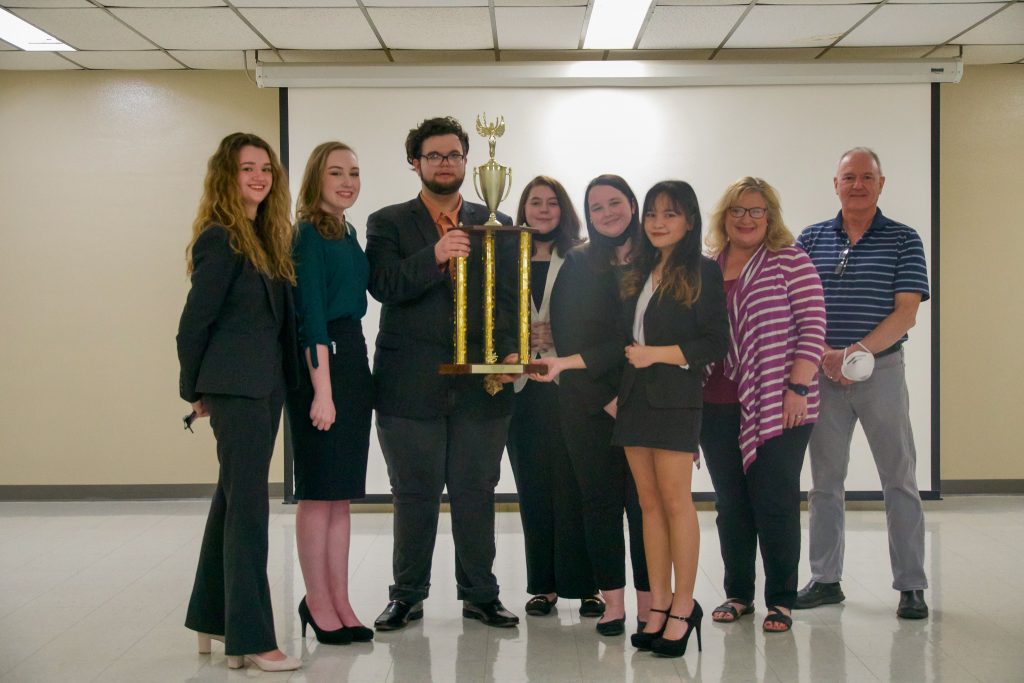 March 3, 2021 – McAlester High School Team Black edged out the Owasso High School's Team Lewis to claim the Oklahoma High School Mock Trial Championship, sponsored by the Oklahoma Bar Foundation and Oklahoma Bar Association. It's a first-time state win for the team from McAlester.
The ongoing COVID-19 pandemic forced the competition online and teams competed over Zoom over the course of the mock trial season.
"The Mock Trial Program provides students with an opportunity to gain a unique insider's perspective of the American legal process," said OBA President Mike Mordy who was also a scoring judge in the preliminary rounds. "The OBA congratulates the top eight teams for their achievement, and we are excited for McAlester High School to represent Oklahoma at nationals."
The next phase of the competition will also be virtual and will be held in Evansville, Indiana, in May.
The case the two teams argued was a fictional criminal prosecution for an alleged murder by hanging involving members of two families entangled in a multi-generational family feud.
The judges evaluated the students based on their familiarity of the case and the formulation of their arguments. Students received points for each phase of the trial, opening, direct and cross examination, closing argument and how well their witnesses responded. Teams are paired with volunteer attorney coaches.
The McAlester team, the defense, was coached by teacher Nicole Green and retired Judge James Bland. McAlester team members are Caleb Brown, Emily Collins, Maria Fassino, Olivia Harkins, Kamden McKelvey, Kirstyn Santino, Raksha Tabada and McKinsey Tighe.
The Owasso team, the prosecution, was coached by teacher Dustin DeVore, Judge Daman Cantrell, attorneys Ken Underwood, Meagan Murdock, Kaylind Baker and law student Nick Hazelrigg. Owasso team members are Terressa Evington, Morganne Grobe, Kayla Gross, Marley Hutchins, Brooke Myers, Shreya Rohatgi, Draven St. George and Seth Wyrick.
U.S. Western District of Oklahoma Judge Shon T. Erwin served as presiding judge during the competition finals. Scoring judges were retired Oklahoma Civil Court of Appeals Judge Glenn Adams, Tulsa County District Court Judge Martha Rupp Carter, U. S. Western District of Oklahoma Judge Charles Goodwin, Oklahoma Court of Criminal Appeals Presiding Judge Dana Kuehn and Chief U.S. Bankruptcy Judge for the Western District of Oklahoma, Judge Janice Loyd.
"One-third of the active federal district judges in Oklahoma City are former high school mock trial champions," Erwin said encouraging the participating students who may want to pursue a career in law. "What I regret is that we aren't there to see you in person. Where we can really see you sweat, watch your facial expressions and you can watch ours too. I miss that."
---
Mock Trial competition forced to move to Zoom due to COVID-19.

Best Courtroom Artist Award – Kerah Ward.

Owasso's Brooke Myers stands at the podium. Shreya Rohatgi sits next to Myers as the prosecutions witness.

Judge Dana Kuehn

McAlester's Caleb Brown

Judge Charles Goodwin

Owasso's mock trial team introduces themselves to the court.

McAlester's Olivia Harkins

Presiding Judge, Judge Shon T. Erwin

McAlester's witnesses being "sworn" in. Left to right: Maria Fassino, Caleb Brown and Kamden McKelvey.
---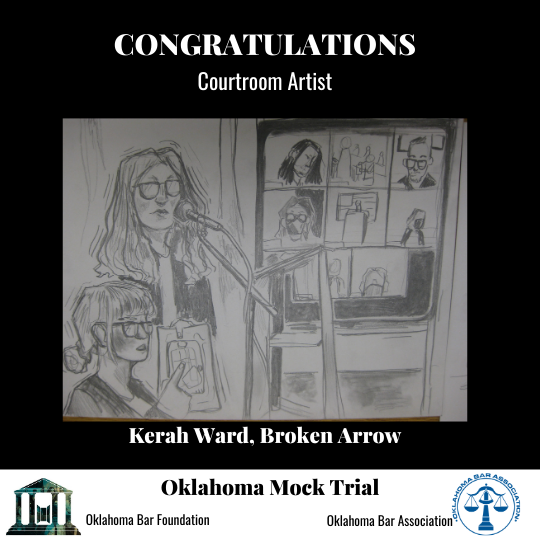 Earning awards as best attorneys were Olivia Harkins and Marley Hutchins with Caleb Brown and Shreya Rohatgi winning best witness honors.
Kerah Ward, with Broken Arrow Team Black, won the best courtroom artist award.
Other top finishers are third place, Classen School of Advanced Studies High School at Northeast in Oklahoma City; fourth, Jenks Team Circus; fifth, Bishop Kelley Team Red in Tulsa; sixth, Owasso Team Boseman; seventh, Owasso Team Brown; and eighth, McAlester Team White. Thirty teams from 17 schools competed.
The Mock Trial Program is sponsored and funded by the Oklahoma Bar Foundation and the Oklahoma Bar Association Young Lawyers Division. More than 300 judges and attorneys volunteered their time to work with mock trial teams as coaches and to conduct the competitions.
Other OBA members who volunteered as scoring and presiding judges include: Glenn Adams, Cindy Alexander, Kaitlyn Allen, Mitch Allen, Lynn Anderson, Nikki Baker, Jerry Bass, Lewis Berkowitz, Howard Berkson, Kelly Bishop, Cody Bowlin, Elizabeth Brow, Shandi Campbell, David Cheek, Michael Chitwood, Jason Christopher, Aaron Compton, Dan Crawford, Sandy Crosslin, Dierdre Dexter, Kara Didier, Monica Dionesio, Allyson Dow, Joshua Edwards, Damon Freeman, Michele Freeman, Charles Geister, Tim Gilford, Aaron Goodman, David Guten, David Hale, Howard Haralson, Shane Henry, Ginny Henson, Steven Holden, Ginny Johnson, Reign Karpe, Dana Kuehn, Shelley Levisay, Kevin Lewis, Kristy Loyall, Katie Magee, Paige Masters, Tom Manning, Daryan Martinez, Andrea Medley, April Moaning, Tom Mullen, Todd Murray, Earl Ogeltree, Liz Oglesby, Tina Peot, Catherine Petersen, Paiten Qualls, Jillian Ramick, Dale Rex, Timila Rother, Jacob Rowe, Andrea Rus, Kathryn Savage, Mark Schwebke, Thomas Showman, Angela Smith, Nicole Snapp-Holloway, Joshua Stockton, Kendall Sykes, Laura Talbert, Sam Talley, Tsinena Thompson, Tracy Turner, Georgiana Van Tuyl, Laina Vaugh, Jeff Virgin, John Wiggins and Connie Wolfe.
---
Watch the full 2021 Oklahoma High School Mock Trial here!