Women in Law Section | Mona Salyer Lambird Spotlight Award Winners Honored
Since 1996, Spotlight Awards have been given to five women who have distinguished themselves in the legal profession and who have lit the way for other women. In 1998, the award was named to honor the late Mona Salyer Lambird, the first woman OBA president and one of the award's first recipients. The award is sponsored by the OBA Women in Law Section. Each year, all previous winners nominate and select the current year's recipients. A plaque bearing the names of all recipients hangs in the Oklahoma Bar Center in Oklahoma City.
This is the 26th year of award presentations. Recipients were honored during the Women in Law Conference held Sept. 30 in Oklahoma City.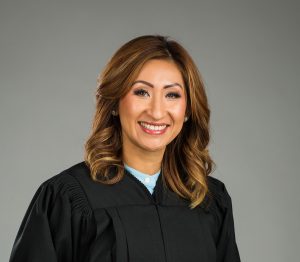 Judge Natalie Mai
Judge Natalie Mai has proudly served as a district judge in Oklahoma County since January 2019 and was recently re-elected to serve another four-year term beginning January 2023. Prior to her ascension to the bench, Judge Mai led a varied and successful legal practice representing individual and corporate clients across the gamut of civil and criminal matters in federal and state courts. She has presided over more than 50 civil and criminal jury trials, including many that have drawn local and national media coverage.
Judge Mai immigrated to the United States from Vietnam at age 10 with her mom to unite with her father, meeting him for the first time. She graduated as valedictorian from Westmoore High School, despite not speaking English when she started school in the U.S. She went on to earn a bachelor's degree from the Cornell University School of Hotel Administration in Ithaca, New York.
After Cornell, she worked in private banking and investment services in Houston. She later moved back to Oklahoma to be with family and graduated from the OCU School of Law in 2009. During her 1L summer, Judge Mai attended the Cornell Law School Summer Institute in Paris, France. She was very involved at OCU, serving as a student ambassador, extern for Judge Niles Jackson in the U.S. Bankruptcy Court for the Western District of Oklahoma and earning the distinctions of dean's list, Moot Court team and Phi Delta Phi.
Judge Mai serves as chair of the Oklahoma Board of Certified Interpreters and a member of the Oklahoma Judicial Executive Board. She has been an active member, including the former chair, of the local chapter of the Cornell Alumni Admissions Ambassador Network since 2002, in addition to being involved in numerous other legal and civic organizations. She especially enjoys working with young adults and new lawyers in passing forward the mentorship she received at the beginning of her career.
When not on the bench or reading in preparation for court, Judge Mai enjoys spending time with her family and fur baby, Bosco, a bull terrier. She also loves traveling, dabbling in gardening, trying new foods and all things bison.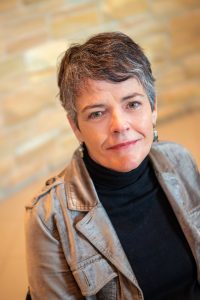 Elizabeth McCormick
Professor Elizabeth "Betsy" McCormick joined the TU College of Law faculty in 2005, where she founded and directed the Immigrant Rights Project, a law school clinical education program in which law students represent clients in immigration matters. Beginning in 2008, she served as director of Clinical Education Programs at the college, and in 2015, she was appointed associate dean for Experiential Learning. In 2020, she was appointed associate dean for Academic Affairs, and in 2021, she served as interim dean of the college. In addition to teaching students in the Immigrant Rights Project, she also teaches immigration law, international refugee and asylum law and professional responsibility.
Professor McCormick's scholarship and advocacy focus on immigration law and policy – in particular, the intersection of federal immigration law and policy and state and local immigration enforcement efforts, including the battle over sanctuary cities. Her work chronicles and analyzes the efforts of state and local governments to disentangle their criminal justice apparatus from federal immigration enforcement efforts and examines the struggle to define the proper role of state and local governments in immigration enforcement. In all her scholarship and commentary, Professor McCormick draws heavily on her own experiences with students and clients in the Tulsa community, often focusing on the detrimental impact of anti-immigrant bias on legal protections for immigrant victims of persecution, domestic violence and other harms. Before joining the faculty at TU, she was a member of the clinical faculty at Cornell Law School and the University of Connecticut School of Law. She holds a bachelor's degree from Fordham University, a master's degree from New York University and a J.D. from the Georgetown University Law Center. She is admitted to practice in Oklahoma, Connecticut and Pennsylvania.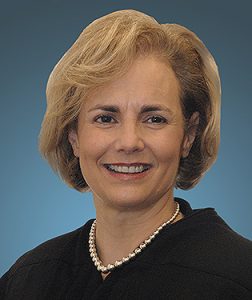 Judge Jequita H. Napoli
Judge Jequita Napoli served as special judge in Cleveland County for 25 years, retiring Sept. 1, 2021. During her tenure on the bench, Judge Napoli was primarily assigned mental health, guardianship and domestic violence matters. Since retirement, she has been conferred active retired status by the Oklahoma Supreme Court. Prior to service on the bench, she was in the private practice of law in Norman, her hometown. A graduate of OU, she received a bachelor's degree in business administration with distinction in 1979 and a J.D. in 1982.
Service to the profession has been prominent in the professional activities of Judge Napoli. From 2019-2020, she chaired the Oklahoma Supreme Court Bar Examination Advisory Committee, leading to the adoption in Oklahoma of the Uniform Bar Exam, affording takers a portable score in all 40 UBE jurisdictions. She is a previous member and chair of the Oklahoma Board of Bar Examiners, member and chair of the National Conference of Bar Examiners, prior member of the ABA House of Delegates and served a six-year term as a member of the ABA Law School Accreditation Committee and a six-year term as a member of the Council of ABA Section of Legal Education and Admissions to the Bar.
In retirement, Judge Napoli continues to serve as a member of the NCBE Long Range Planning Committee and chair and team member of ABA law school accreditation site teams. Additionally, she has been appointed as a member of the Uniform Law Commission Study Committee on Child Participation in Family Court Proceedings. She is a board member of the Oklahoma Access to Justice Foundation and the Thunderbird Clubhouse in Norman.
Judge Napoli and her husband, Albert, have been married for 45 years and have one son and daughter-in-law, Nick and Melissa.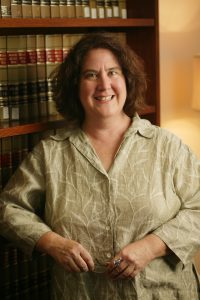 Amelia Pepper
Amelia "Amy" Pepper has taught in the OU Legal Clinics for 31 years under many different titles. Her work has remained the same: facilitating law students' learning process while they represent real clients. Currently, she is the director of the Legal Clinics and an assistant professor of Clinical Legal Education. Professor Pepper's practice in the Civil Clinic encompasses a civil poverty caseload, with an emphasis on family law cases. She co-teaches the Interdisciplinary Training Program on Child Abuse and Neglect and serves as a faculty advisor to the Victim's Assistance Program. In addition to her regular teaching duties, she has also coached the AAJ and NTC trial teams and the ABA Client Counseling team.
After obtaining a bachelor's degree from Tulane University in 1984 and a J.D. from the OU College of Law in 1987, she began her legal career as a staff attorney at the Legal Aid Society of the District of Columbia. In her nonwork hours, she volunteered with House of Ruth and the Washington Legal Clinic for the Homeless. She could not resist the pull of clinical education and returned to Norman in 1991. Since that time, she has served on the OBA Licensed Legal Intern Committee, Cleveland County Bench and Bar Committee and as an OBA convention delegate. She learns from talented and knowledgeable colleagues in the Luther Bohanon American Inn of Court. She has served on the boards of the Full Circle Senior Adult Day Center and the Sooner Theatre, and she donates platelets in her spare time.
Having successfully avoided matrimony, she resides with her wiener dog, Calpurnia, and enjoys extraordinary everyday adventures with her family and friends.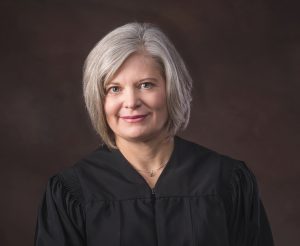 Judge Jill Weedon
Judge Jill Weedon serves as district judge for the Second Judicial District, which is comprised of Beckham, Custer, Ellis, Roger Mills and Washita counties. After graduating from Clinton High School in 1985, Judge Weedon went on to earn a bachelor's degree cum laude from Colorado College. She graduated with distinction from the OU College of Law in 1992 and worked as an attorney in Clinton with a general practice.
She served as district judge for 10 years, and Gov. Brad Henry appointed her associate district judge for Custer County in 2009. She ran for her current position in 2018 and is currently the presiding judge of the Northwest-Panhandle Judicial Administrative District.
Judge Weedon is a member of the Oklahoma Uniform Criminal Jury Instruction Committee and, in 2020, was appointed by then Chief Justice Noma Gurich to the Pandemic Response Committee. The OBA awarded Judge Weedon the Judicial Excellence Award in 2017. Court Appointed Special Advocates of Oklahoma recognized her as Judge of the Year in 2016.
A past president of the Custer County Bar Association, she has also served as an associate Oklahoma bar examiner, a member of the OBA Clients' Security Fund and an Oklahoma High School Mock Trial coach. While she worked with the Clinton High School legal team, they won two State Mock Trial Championships and placed fourth at the National High School Mock Trial Championship in 2012.
Judge Weedon and her husband, Rick, have two grown children. Quinn Weedon is an attorney in Oklahoma City, and Greyson Weedon manages the family farming operation in Arapaho.
Originally published in the Oklahoma Bar Journal – OBJ 93 Vol 8 (October 2022)