Women in Law Committee Partners with OBI for Blood Drive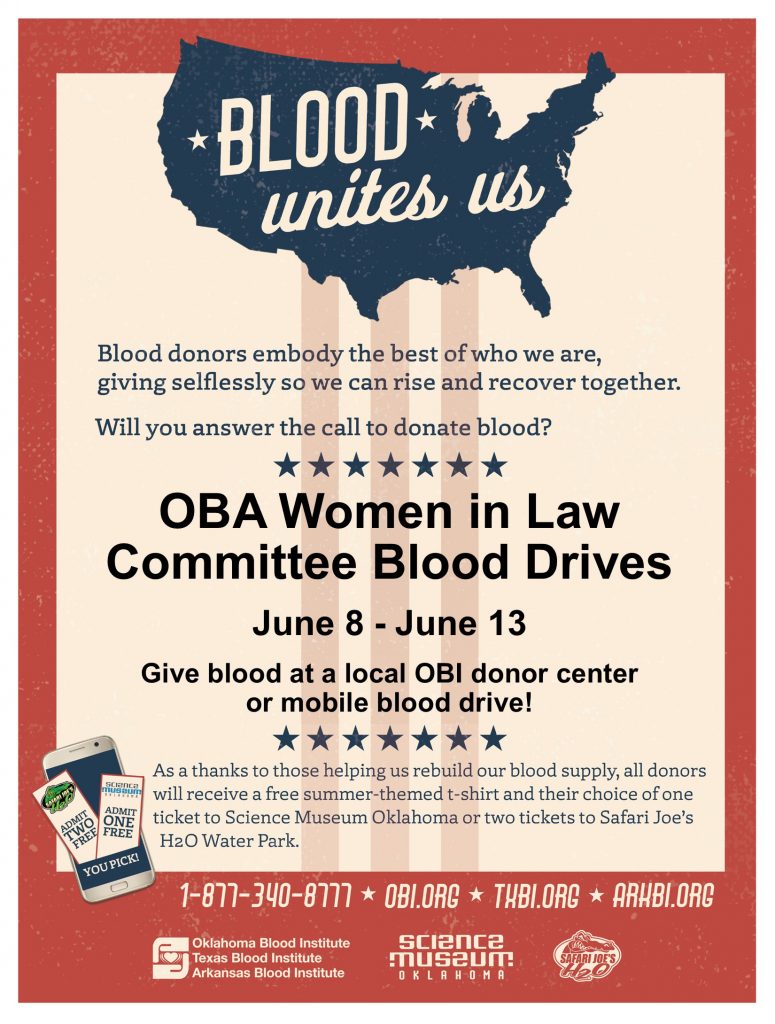 The OBA Women in Law Committee is partnering with the Oklahoma Blood Institute to host a statewide blood drive running June 8-13.
The OBI has allowed OBA members to make a blood donation at any OBI Donor Center or Mobile Drive throughout the state during the drive. Whether you're in OKC, Tulsa, Ardmore, McAlester, Taloga or nearly any place in between, there is an opportunity for you to participate. Find an OBI Donor Center or Mobile Drive online at https://www.yourbloodinstitute.org/donor/schedules/zip.
Blood donations are down but the need for blood remains high. It takes over 1,200 units of blood daily to meet the needs of area hospitals. One blood donation can save up to three lives! As an added benefit, many of the people who donate blood in June can get the COVID-19 antibody test if they choose.
SNAP A SELFIE
The Women in Law Committee is encouraging members who donate blood to snap a selfie and share it on social media using #OBAWomenInLaw.
OBI TAKING PRECAUTIONS OBI has been taking extra safety precautions during this unprecedented time. To insure the safety of their staff and donors, all furniture and beds are spaced out to follow social distancing guidelines. Everyone's temperature is taken as soon as they enter and all staff are required to wear a mask. If a donor wants to wear a masks, OBI can provide one to them. As always, they are sanitizing all donor areas in between donors.