The Crime, The Trial, The Response
The program is too historic to not reschedule. Safety concerns over the Covid-19 pandemic postponed the April date of OBA's special program to honor the 25th anniversary of the Oklahoma City bombing called, The Crime, The Trial, The Response.
The rescheduled program, planned with careful attention to social distancing, will take place all day, in person, on Friday, September 18, 2020, at the Cox Convention Center in Oklahoma City.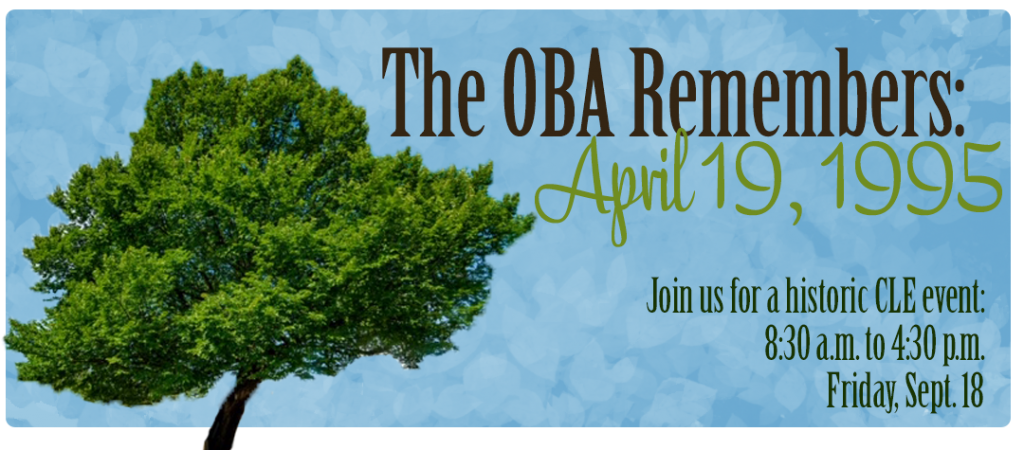 OBA members Stephen Beam of Weatherford and Melissa DeLacerda of Stillwater are event co-planners. They indicated this program will be historic as it brings together many who played roles in all aspects of the tragedy from April 19, 1995, and the years following as the investigation and court cases wound through the system.
"This event greatly impacted Oklahoma, and all of America was touched by it. It is important to remember the role Oklahoma lawyers played in ensuring the rule of law was followed and upheld. This program should be especially meaningful to all Oklahoma Lawyers."

Stephen Beam
DeLacerda said a curated lineup of speakers, including Brian Hermanson who was Terry Nichols' defense attorney, FBI agents Jon Hersley and Larry Tongate and Noble County Sheriff Charlie Hanger who arrested Timothy McVeigh, will share poignant memories from the time.
"Our hope is that we are able to give people an avenue to hear from some of the most influential people involved in the aftermath of the bombing."

Melissa DeLacerda
OBA member and historian Bob Burke and retired Chief Justice of the Oklahoma Supreme Court Steven Taylor, presiding judge in the state trial of the bombing, will moderate a panel featuring former Governor Frank Keating, survivor David Page, and former Oklahoma City Fire Chief Gary Marrs who was the incident commander.
The day will begin with a Presentation of the Colors from the AFJ ROTC, Commanded by Captain Tyler Conaway, Choctaw High School and the national anthem will be sung by Olivia Kay of Edmond.
The program comes with seven continuing legal education hours. An optional tour of the Oklahoma City Memorial & Museum is offered following the program.
Brian Hermanson

Gov. Frank Keating

Chief Gary Marrs

Retired Chief Justice Steven Taylor
The event will be Friday, September 18, 2020, at the Cox Convention Center in Oklahoma City, from 8:30 a.m. – 4:30 p.m. and will include lunch.
Please note: walk-in registration will not be accepted at the door.
OBA member registration before Sept. 11: $150
OBA member registration between Sept. 11 – 17: $175
General public registration before Sept. 11: $25
General pubic registration between Sept. 11-17: $50