New Leaders Take Helm of Oklahoma's Two Highest Courts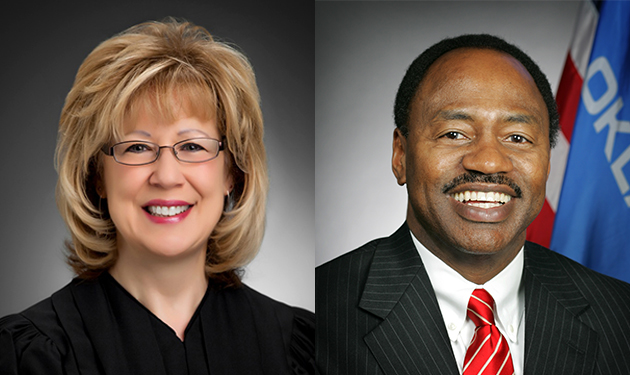 Noma D. Gurich is the new Oklahoma Supreme Court chief justice. She has been a member of the Oklahoma Supreme Court since her appointment by Gov. Henry in January 2011 and just completed a two-year term as vice chief justice. A native of Indiana, she received her undergraduate degree from Indiana State University and her J.D. degree from the OU College of Law.
She is only the third woman to serve on the state's highest appellate court and as chief justice. Over her years of service, she has the unique distinction of being appointed to judicial office by four different governors after recommendation from the Judicial Nominating Commission.
Chief Justice Gurich has been a judge in Oklahoma for 30 years, serving as a judge on the Oklahoma Workers' Compensation Court and as a district judge for Oklahoma County. Prior to her judicial career, she practiced law for 10 years in Oklahoma City. She is married to John E. Miley, Oklahoma Employment Security Commission general counsel.
Patrick R. Wyrick was elected to be the next vice chief justice. An associate justice since February 2017, he was appointed to the Oklahoma Supreme Court by Gov. Mary Fallin. He received his law degree from the OU College of Law and began his legal career as a law clerk for Federal Judge James H. Payne of the U.S. District Court for the Eastern District of Oklahoma. Following his clerkship, he was in private law practice when he was hired as the first solicitor general in the Office of the Oklahoma Attorney General.
Vice Chief Justice Wyrick, a fourth-generation native of Atoka, attended OU on a baseball scholarship. He and his wife, Jamie, have three children.
The new Oklahoma Supreme Court leaders will serve two-year terms that began Jan. 1. A live video of the Supreme Court swearing-in ceremony will be available on the bar association's Facebook page starting at 2 p.m. Tuesday, Jan. 15.
David B. Lewis began serving his second term as Court of Criminal Appeals presiding judge on Jan. 1.
He was originally appointed to the court by Gov. Henry in August 2005. Born and raised in Ardmore, Presiding Judge Lewis earned a bachelor's degree with high honors in business administration and economics from OU and went on to earn his J.D. from the OU College of Law in 1983. Following law school, he established a practice in Lawton and subsequently served as an assistant district attorney.
He held the position of special judge in Comanche County from 1991-1999 before being appointed by Gov. Keating to serve as district judge of Comanche, Stephen, Cotton and Jefferson counties. He has received numerous awards and public recognition over the years for his dedicated service to the legal community and the public. He was inducted into the Order of the Owl at the OU College of Law in 2017. He has served as Oklahoma Judicial Conference president and is co-chair of the OBA Bench and Bar Committee.
Vice Presiding Judge Dana Kuehn was appointed to the Court of Criminal Appeals in October 2017 by Gov. Mary Fallin. A native of Tulsa, she attended OSU, receiving a bachelor's degree in political science in 1993. She received her J.D. from the TU College of Law in 1996 and served as a felony prosecutor for almost 10 years with the Tulsa County District Attorney's Office.
In 2006, she was elected associate district judge of Tulsa County and presided over a felony docket. From 2008-2017, she presided over a civil docket. She is a Mona Salyer Lambird Spotlight Award recipient and in 2017, the American Board of Trial Advocates recognized her as Judge of the Year for the state of Oklahoma.
The new Court of Criminal Appeals leaders will serve two-year terms.