President's Message - April 2021
Take Advantage of the Lawyers Helping Lawyers Assistance Program
By Mike Mordy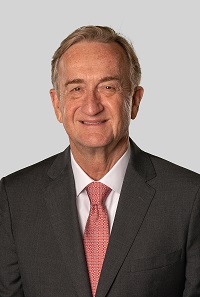 I try to attend the Lawyers Helping Lawyers Assistance Program monthly committee meeting as often as possible because I believe it is one of the best programs the OBA has to offer. At a recent meeting, I was reminded how compassionate and eager the committee members are to offer help to their fellow attorneys.
I read a bar journal article written by Deanna Harris and Ben Rogers about Oklahoma City attorney Bob Looney, who started Lawyers Helping Lawyers in the early '70s. I was acquainted with Bob and knew him to be a legal giant in the legal community, but it was not until 2002 when he and I were at the same men's Christian retreat that I learned of Bob's compassion for his fellow man. This compassion has continued with the good works of the LHL Assistance Program that Bob helped start.
LHL offers, as part of the benefits to its members, six free counseling sessions with an independent counselor, which is totally confidential. LHL, through the Oklahoma Bar Association, entered into a new contract beginning Jan. 1, 2021, with A Chance to Change to provide six free counseling sessions for behavioral health or addiction disorders. A Chance to Change is a counseling entity that began in Oklahoma City in 1979 by offering drug and alcohol addiction treatment but has responded to societal changes by adding counseling for gambling, early drug and alcohol education and intervention, stress management, depression and grief counseling, to name a few.
Two counselors from A Chance to Change attended the LHL committee meeting to introduce themselves and to talk about the services being offered. I recognized one of the counselors and set up a conference with her the next day to discuss the organization and what services were being offered. When I talked to the counselor the next day, we realized we were previously acquainted. My friend with whom I reconnected is very sharp and well-educated with various master's degrees and a doctorate degree but very humble and unassuming as to her education and credentials.
She is very excited to be helping our association and to offer counseling. She is very compassionate and told me that it is not just about alcohol and chemical dependency, but her organization wants to offer counseling to those who are stressed or working too many hours or need help with setting boundaries with clients. My friend told me, at the end of our conversation, that she wants to "really work at growing this program to serve attorneys in Oklahoma."
I think we all need various degrees of counseling, and I hope all our members will avail themselves of the Lawyers Helping Lawyers Assistance Program or direct someone you see or hear of who might benefit from it, even if it is to help someone with an issue that may appear to be mundane. All services offered through the Lawyers Helping Lawyers Assistance Program are strictly confidential, including counseling through A Chance to Change. You can reach A Chance to Change anytime, 24 hours a day, through the LHL helpline at 800-364-7886. Tell them you are a member of the Oklahoma Bar Association and would like to speak with a counselor. Traveling to meet with a counselor is not a factor because sessions can take place virtually.
You can also participate in monthly LHL discussion groups, which are small group discussions intended to give leaders and participants the opportunity to ask questions, provide support and share information. Please take advantage of this program and the free counseling, because as my friend told me, "Counseling is a gift you give yourself to be the best version of yourself."
Originally published in the Oklahoma Bar Journal – OBJ 93 (April 2021)