Free & Virtual: OBA ANNUAL MEETING ANNOUNCED
Oklahoma Bar Association President Susan B. Shields today announced the organization's annual meeting will be virtual with a theme of BOUNCING BACK.
"Nothing about this year has gone as planned. Because of the ongoing pandemic, we are officially announcing our annual meeting will be a virtual gathering," said Shields.
"Please join us November 9 – 13, 2020, from your desk, on the couch or wherever you find yourself for an annual meeting that will feature free Continuing Legal Education on relevant topics and emphasize attorney wellness and resiliency," she said. The meeting will be spread out from Monday – Friday to allow members to take part in the programming for a few hours each day and tend to their law practices.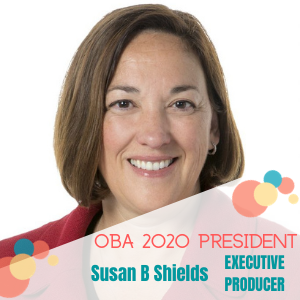 "We hope you will take advantage of this opportunity to get your CLEs for free; and celebrate our profession and this organization."
Highlights of the virtual annual meeting include a variety of relevant CLE topics including COVID-19 and a panel discussion from attorneys in Oklahoma's opioid case. We will honor award winners, take care of association business, install new officers and have some fun too.
Featured Speakers include Laura Mahr who will lead several sessions on resiliency, and "Couples Court" stars Dana and Keith Cutler who will headline our Diversity Awards.
Morning yoga, a virtual cocktail hour and trivia game are other events being planned.
Registration will be open by October 1, 2020. Goody bags are being planned to be mailed to our first 500 registrants, thanks in part to our generous sponsors.
"We look forward to seeing you, virtually, of course, in November for our Bouncing Back OBA Virtual Annual Meeting."