Celebrating 30 Years: Judge David B. Lewis
Thirty years ago on January 14, David B. Lewis was first appointed to serve as an Oklahoma judge. Later, Governor Frank Keating appointed him to a judicial vacancy, and then in 2005, Governor Brad Henry appointed him to the Oklahoma Court of Criminal Appeals.
It marks a milestone, not only to recognize the service on the judiciary, but also to note that the Ardmore native becomes the longest serving Black judge in Oklahoma History.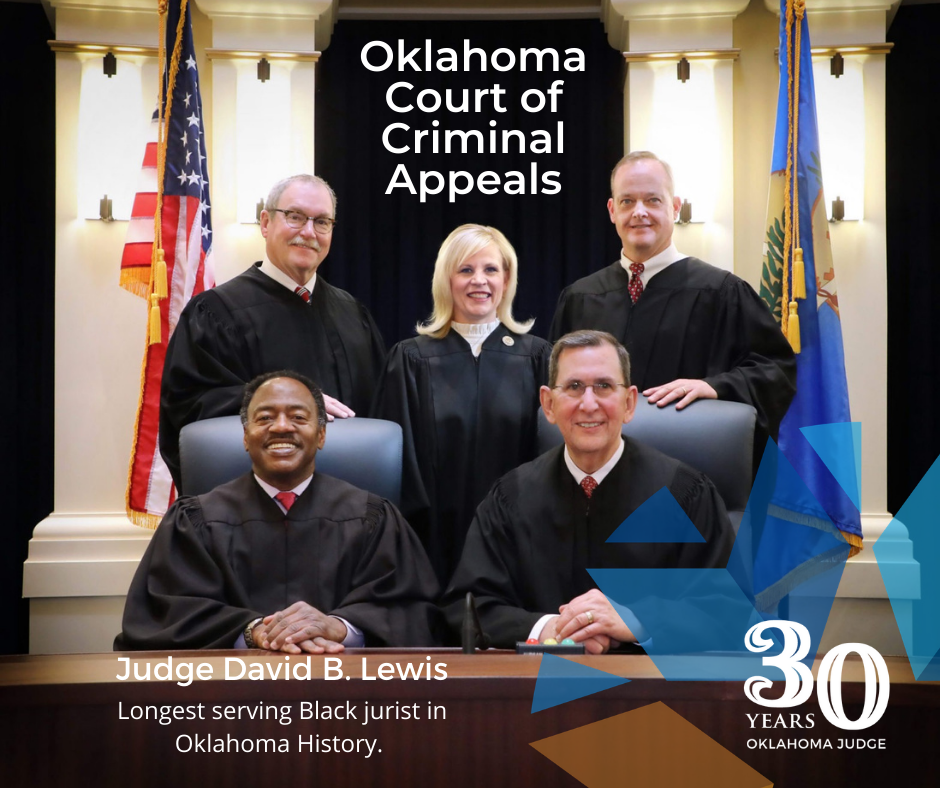 "I was confident, when I appointed Judge Lewis to the Court of Criminal Appeals in 2005, that he would serve the people of Oklahoma with the highest degree of integrity, humility and excellence. He has truly exceeded my expectations, and I am honored to congratulate Judge Lewis on his recent profound and poignant accomplishment of becoming the longest-serving African American jurist in our state's history. Judge David Lewis is the quintessential jurist and public servant.
Thank you for your service, my friend."

Brad Henry, 26th Governor of Oklahoma
Former Governor Frank Keating also marked the occasion with a reflection.
"For too long, Oklahoma was insensitive to the need to speak loudly for a Joseph's Cloak landscape in public spaces. David Lewis was an honors graduate from OU and formerly president of the Comanche County Bar. A special judge, I had the honor to appoint him district judge. We needed outstanding people of every race and we needed to break a contrary model. Judge Lewis was bright, accomplished and humble. He is the best of the best and I am proud to have played a small part in his success. "

Frank Keatng, 25th Governor of Oklahoma
A fellow Ardmore native, OBA President Mike Mordy noted the milestone and thank Judge Lewis especially for his dedicated service to the OBA.
"Congratulations on your 30 years of service as a jurist. You have always had a reputation of being fair, honest and impartial, but most importantly you've had a great reputation for being wise. I want to thank you for your service to the State of Oklahoma and to the judiciary. And I thank you for your stellar representation of the Oklahoma Bar Association."

Mike Mordy, 2021 OBA President
The court marked the occasion during this time of social distance, in part, with a video tribute. Family members, friends, colleagues, former governors, and leaders of the OBA congratulated Judge Lewis in a heartwarming message.
Watch the video tribute here. Follow the appellate courts through the OBA's new online resource, Courts & More, that publishes each Wednesday.