Bar Offers Free Legal Advice to Veterans, Service Members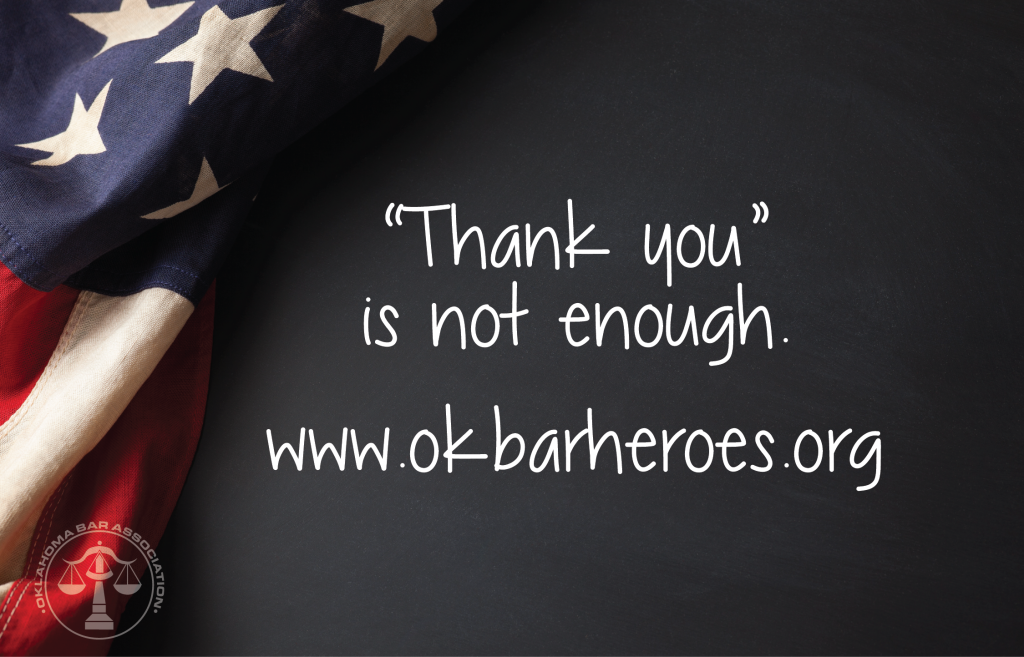 The Oklahoma Bar Association is offering free legal advice to eligible service members and veterans. The program called Oklahoma Lawyers for America's Heroes began seven years ago and has helped more than 200 heroes this year alone.
OBA President Kimberly Hays said, "The bar association has 657 volunteer attorneys from across the state to answer legal questions and give advice. Since the program was launched on Veterans Day in 2010, Oklahoma lawyers have helped 4,770 people with free legal advice totaling $3,321,000 in billable time donated."
To qualify for the free services, a hero must 1) be a veteran of the U.S. armed forces, currently active or on reserve duty for the U.S. armed forces; 2) if on active duty or a member of the guard or reserves, the hero's pay grade must be E-6 or below; 3) if a veteran, the hero's gross income per year cannot exceed $40,000 (all income is considered); 4) if a veteran, the hero must have an honorable discharge; and 5) have a legal issue within Oklahoma and cannot be currently represented by counsel.
To request assistance, go to www.okbarheroes.org and follow the instructions to submit information online or by mail. For questions, call Program Coordinator Margaret Travis at 405-416-7086.
Nearly half the cases this year have involved family law, such as dissolution of marriage, adoption and paternity. About 14 percent of legal services given were criminal issues followed by 8 percent of debt-issue cases. General civil cases and disability each represent about 5 percent of cases. Other legal needs were real estate, tort/personal injury, estate planning, landlord/tenant, probate, military, employment, contracts/breach, administrative/immigration, discrimination and taxes.
One grateful hero said, "I want to thank you from the bottom of my heart for this! You have no idea how hard and scary this has been. I don't know if or how I can thank you enough."
Volunteer attorney Courtney Zamudio of Oklahoma City said, "Our service members sacrifice so much for so little. They should be able to focus their efforts on the mission and their job in our armed services and not the financial and legal burdens they may be facing. Serving as a volunteer helps to relieve these burdens while giving our heroes comfort that someone cares and is providing them services they may not otherwise be able to afford."
The 18,000-member Oklahoma Bar Association, headquartered in Oklahoma City, was created by the Oklahoma Supreme Court to advance the administration of justice and to foster and maintain learning, integrity, competence, public service and high standards of conduct among Oklahoma's legal community.